Nuclear Dance Re-Mastered with Picasso's Guernica
Nuclear Dance Original Broadcast
Part I
Nuclear Dance Original Broadcast
Part II
Nuclear Poem for
Nuclear Dance
Like what you saw? Your support is greatly appreciated. Please note: donations to the Elsy Dance Company are not tax deductible.
Synopsis
This dance was inspired by Picasso's painting Guernica, Olavarrieta's Nuclear Poem, and Julian Carrillo's Sonido Trece. Both the painting and the poem are protests against war and nuclear weapons. This dance shows the beautiful forms of the human being and their impotence against a nuclear war.
The bodies of the dancers make forms of this world in suspension and unstable from the explosion of nuclear bombs. It represents the anguish of the people and the destruction nuclear weapons cause.

The dance represents the hopeless and futile nature of nuclear war.
Photos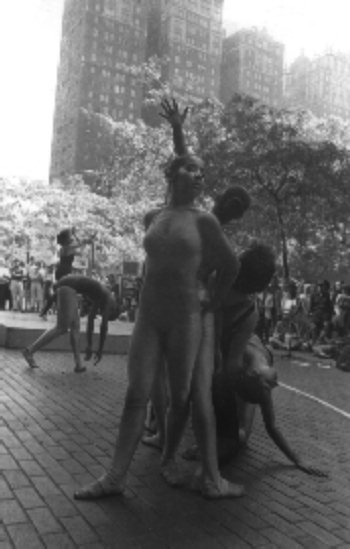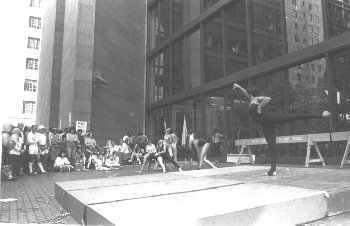 Photographs were taken at the "River-to-River" Dance Festival in front of Ford Foundation Headquarters.
Credits
Choreography:
Elsy Contreras

Music:
Julian Carrillo

Poem:
L. M. Olavarrieta

Dancers – NY River-to-River:
Ballet Hispanico of NY


Dancers – Noche a Noche:

Elsy Contreras

Patricia Aguilar
Sylvia Angelica
Leticia Cosio

*Dancers solely trained with Elsy Contreras

Original Production:
Noche a Noche,
Televisa,
Mexico City, MX