Wind Woman, Sand Woman, Free Woman
Like what you saw? Your support is greatly appreciated. Please note: donations to the Elsy Dance Company are not tax deductible.
Photos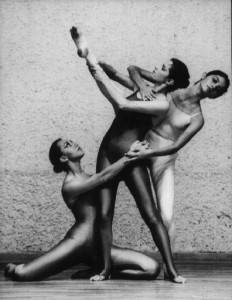 Synopsis
This dance describes a woman who is non-manipulative, has strong self-esteem, balance, and intelligence. She helps other women bring out these qualities and achieve their full potentials. The dance explores all of a woman's possibilities while keeping her own personality. Music was composed by Antonio Russek specifically for this dance.
Choreography
Elsy Contreras
Electro-Acoustic Music
Antonio Russek
Dancers*
Sylvia Angelica
Patricia Aguilar
Leticia Cosio
*Dancers trained solely by Elsy Contreras Dance Company from Beginner through Professional. Dancers trained in Classic Ballet, Contemporary, Jazz, Folk, Music, and Terminology.
Production
Noche a Noche
Televisa
Mexico City, Mexico